Work meeting for local stakeholders in Azerbaijan organized by Azerbaijan Technical University and Azerbaijan State Agricultural University
04th of December2020
Jointly organized web meeting by Azerbaijan Technical University and Azerbaijan State Agricultural University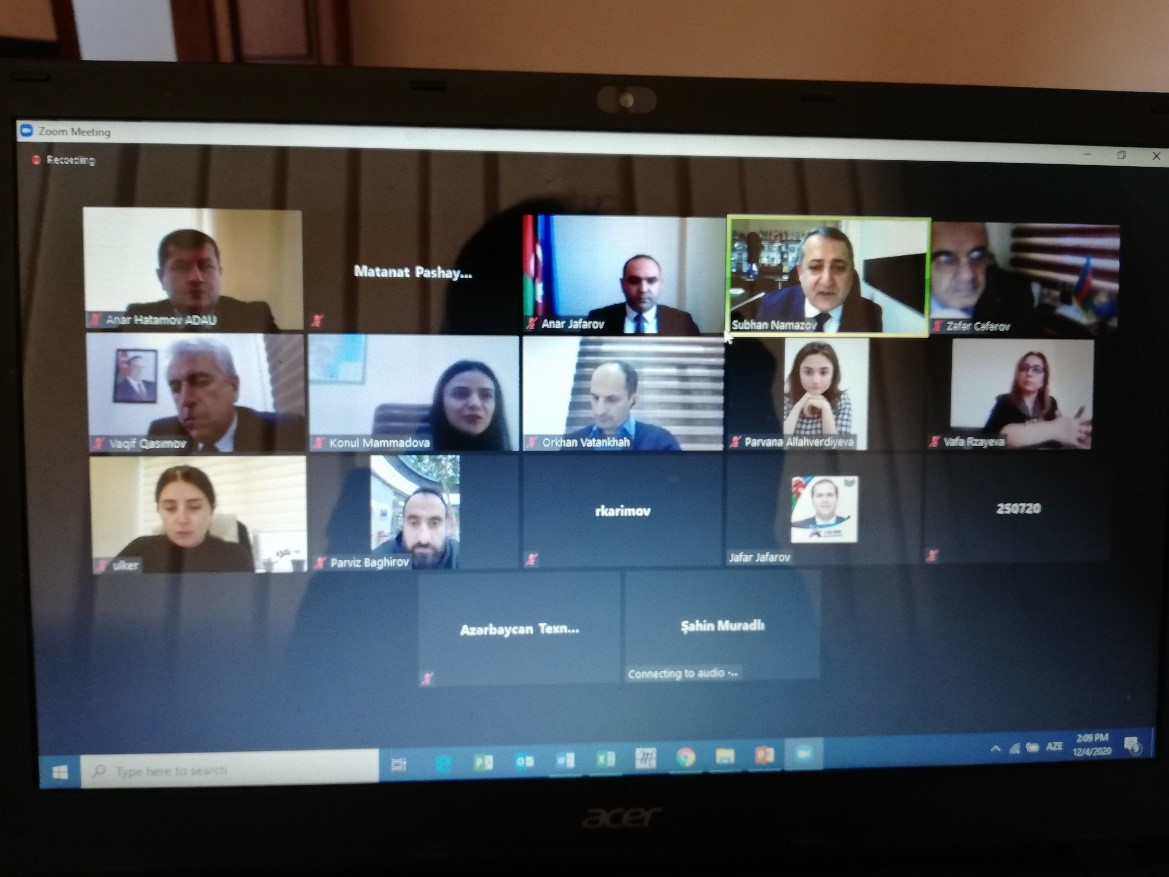 Azerbaijan Technical University and Azerbaijan State Agricultural University held jointly organized online meeting for introduction of UNICLAD project and EU cluster experience with participation of local stakeholders on December 04, 2020 at 14-00 Baku time.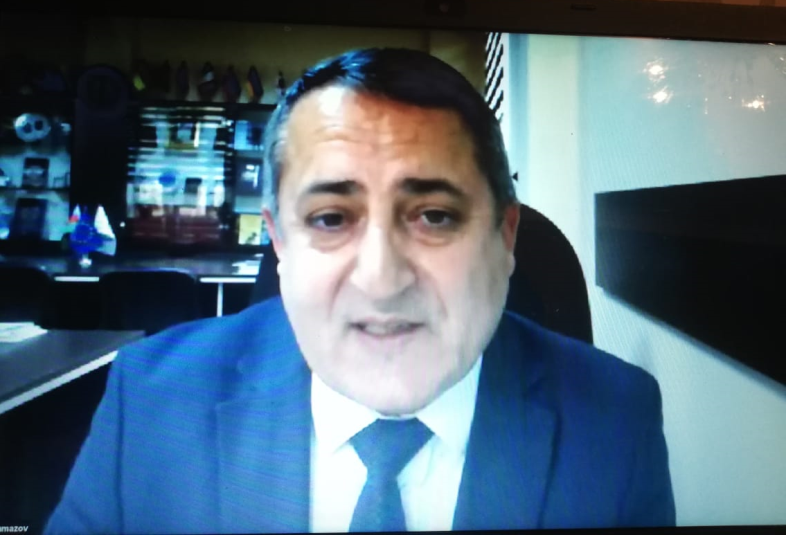 Subhan Namazov, vice-rector for International Relations, provided welcoming speech and presented the key stakeholders of the project and participants from both host Universities. Then he stated objective of the project and its importance for building and enhancing University –Industry cooperation and application of a new approach –clustering. He mentioned oftotal 24project partnersrepresenting 8 countries where the Kaunas University of Applied Sciences was coordinator and the key target countries for development of cluster experience were Azerbaijan, Ukraine and Moldova with due emphasis to agrarian sector. He also stressed the increased role of Universities in the project as one of the incumbent of the future clusters. From this perspective, he addedrole of expertise centers to be establishedwithin the Universities as future clusters, involvement of Master and PhD students in the process of developing researches,topics for which would be received from the industries, trainings and students mobility as well. Accordingly outcome of which shall be delivered to industries with due focus on innovations and sustainability and also synergy to be received by the incumbents of the clusters from the close collaboration within the clusters.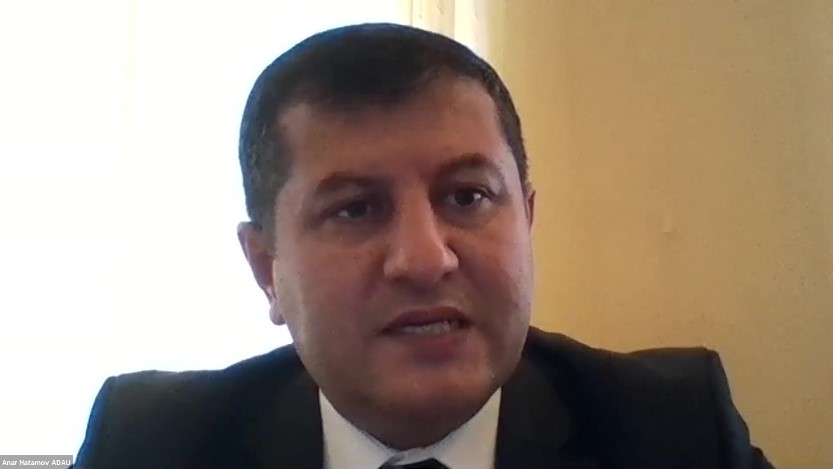 Anar Hatamov, vice rector of State Agricultural University provided welcoming speech as a host of the meeting and stressed importance of implementing the project for achieving integration of education into the production sector. He also provided some introductory information about the Azerbaijan State Agricultural University and stressed recent state support to the agricultural sector and food security of the country, as well as reinforcement of material and technical base of the University for growing qualified specialists. He also emphasized University`s committed strategyto achieve commercialization of University developments and effort undertaken to achieve the target.
ParvizBagirov, the director of ERASMUS + program in Azerbaijan was giventhe floor to provide his welcoming speech as well.Along with his speech, he paid attention to implementing the internationals projects in such challenging time followed with COVID 19 and related communications carried out with project coordinator for extending the project duration to enable more active interaction within the project in future and fulfil its subtasks where physical meeting are required. He expressed his support to project partners in the course of project development of project and stressed importance of registering project by the partner organizations at the local authorities.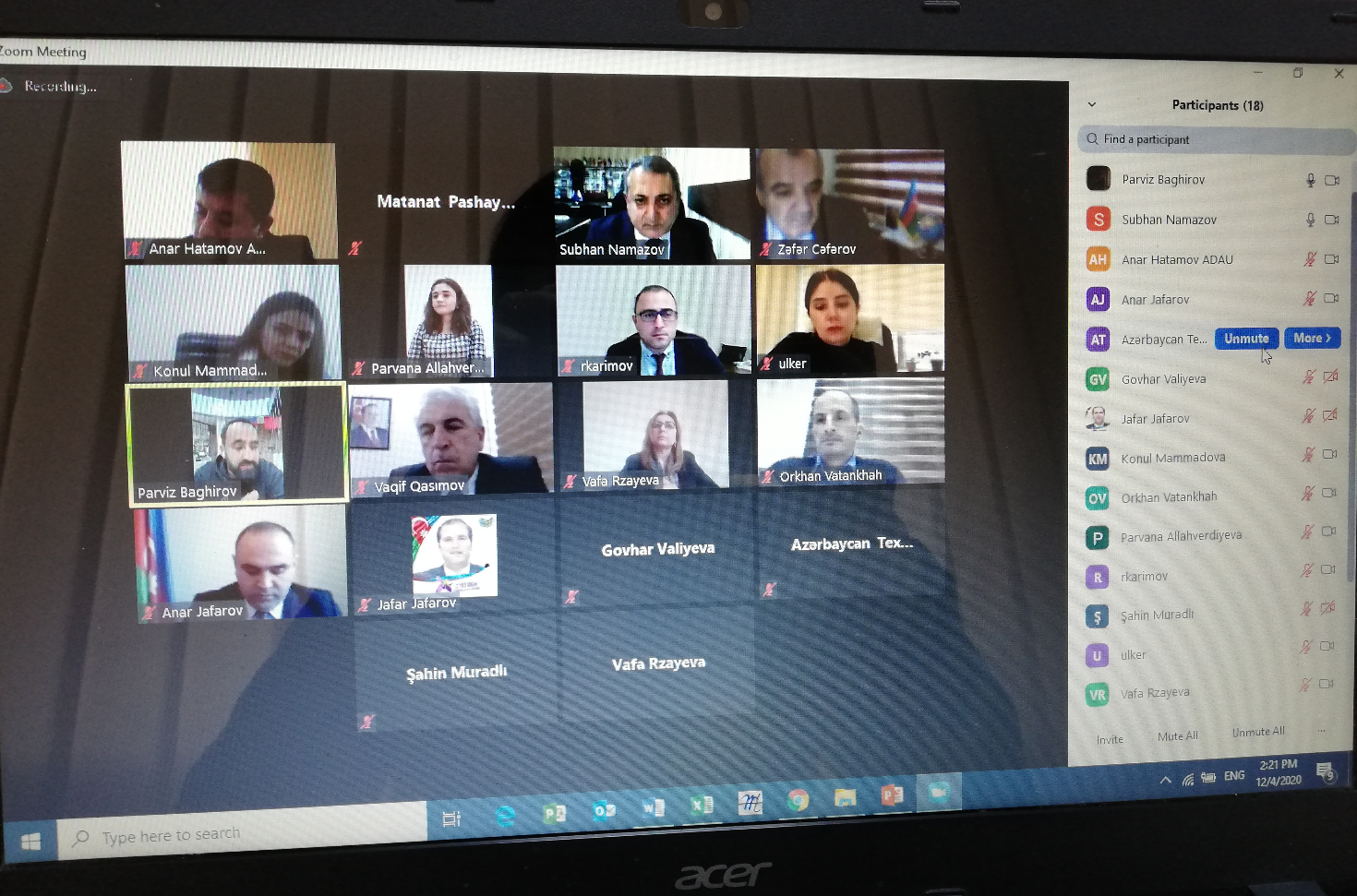 Anar Jafarov, head of department for Administering Agrarian Innovation Policy at Agrarian Science and Innovation Center stressed the recent trends at the education establishments in Azerbaijan dominated by theknowledge based economy, and observable efforts to commercialize some of their services and the developments were appreciatedby them.
He also presented the structure of the Center to audienceand stressed necessary areas of collaboration in future within the project.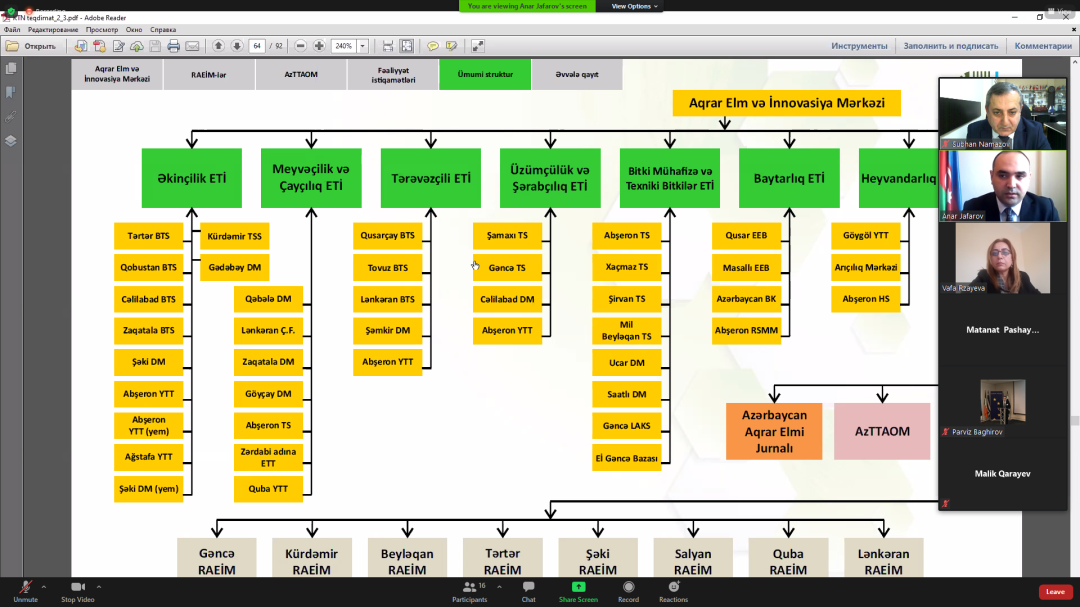 Moreover, he provided brief information about7 scientific research institutes and other units being under their structure and also areas of operation. He listed the projects supervised by the Center to receive and implement innovative projects like as Agro Hackathon and smart orchards in which, the areas were fully automatized and subject to distant control and climate control which proves expected outcome of owner to maximize the output and to save the resources, as well as minimize costs. Center`s Friday traditions to receive presentations of innovative projects to be applicable in agro sectors was also emphasized and duly noted toward promotion of innovative projects in agro sector of Azerbaijan. He also noted that thescope of operation was not limited to only technology transfer but also introduction of new irrigation systems and business models in farmer enterprises, alternative options for subsidization of farmers like crowdfundingwhich promotes and enhances public–private partnerships in the agro business. The process of allocating subsidies to farmers was mentioned to be under their supervision in which process they involve satellite monitoring of areas as well as predefined rules for employment of highly innovative tools and approaches applicable in the relevant sector as the requirement for the allocation of state subsidies. Another important service renderedby the Centerwas delivery of information and consulting services for the farmers with necessary knowledge and presentation of most recent technologies, approaches, increasing awareness in the sector. In general, Agrarian Science and Innovation Centerwas recognized as key project stakeholder in development stage of the project.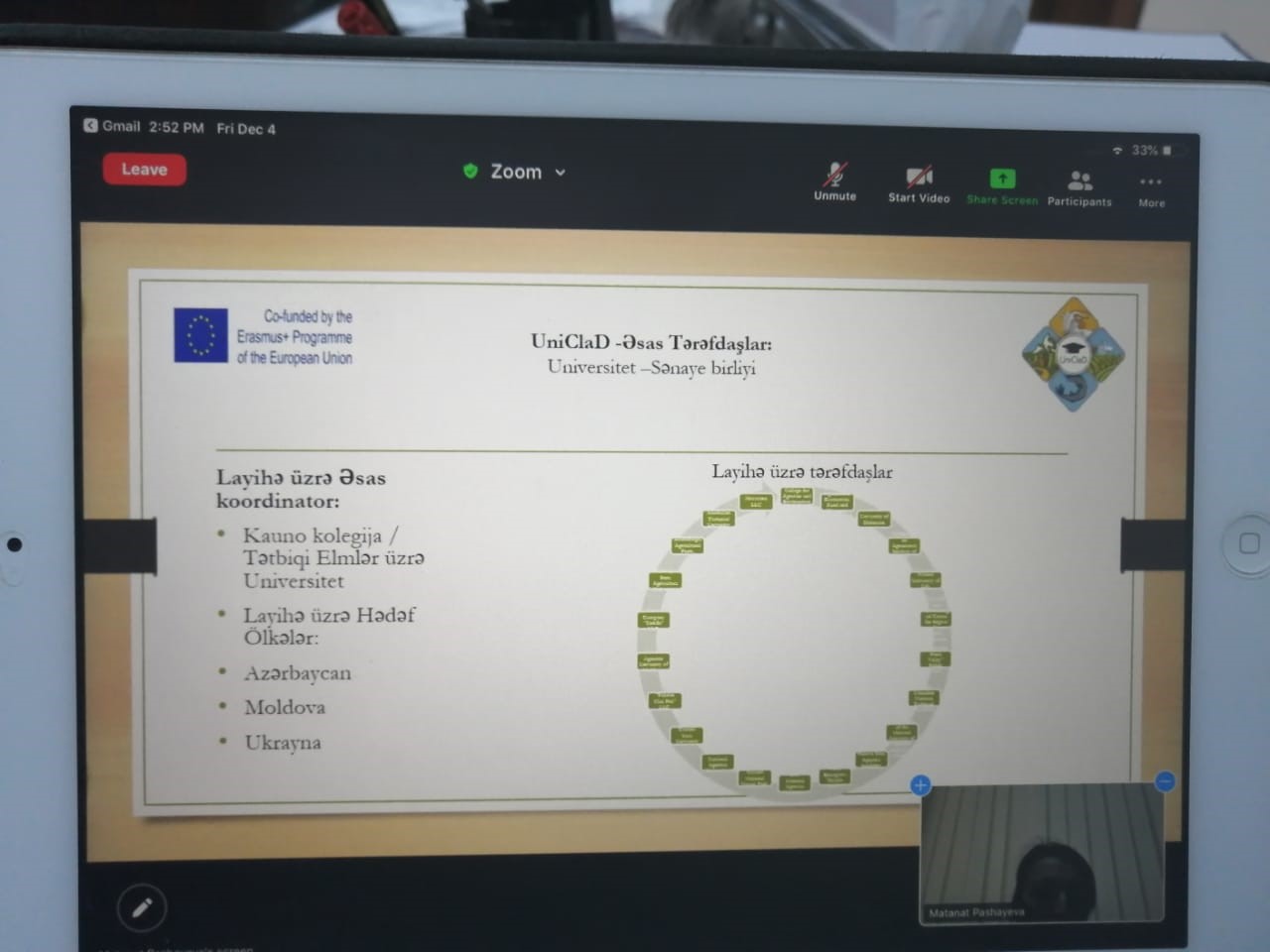 Matanat Pashayeva, the project specialist at AzTU delivered the presentation of the project, including its objectives, outcomes, work packages and tasks to be implemented within each work package with due attention to expertise centers to be established at Azerbaijan Technical University and Azerbaijan State Agricultural University, to fulfill the role of clusters in future, the areas of involvement of master and graduate students into the project activities, students mobility and other expected outcomes of the overall project. She also mentioned two international workshops delivered within the project for sharing cluster experience in EU countries and close involvement of EU project partners in implementation of cluster experience in three target countries: Azerbaijan, Ukraine and Moldova.
Anar Hatamov, vice rector of Azerbaijan State Agricultural University delivered the presentation of their partner farm within the project, Suliddinogly. He mentioned that Suliddinogly farm, having moderate level of development, with real challenges in growing production, well suited for objective of the project. He provided key profile information of the farm engaged in cattle and cereal production located in 60 Ha areas in Samukh district of Azerbaijan, with due indication of state subsidies and incentives received by the farm as other incumbents in the sector and existing challenges related with decline in production level although deployment of highly productive breeds imported from EU countries and existing challenges lived in sale and marketing, and poor access to wholesalers and retailers.It was also mentioned that number of cattle declined from 100 to 42 despite the necessary efforts were involved to maintain the production. It was explained with slow or low adaptation of imported breeds and necessity of innovation approaches here as in other similar farms. Then he summarized his presentation with SWOT analysis of the farm.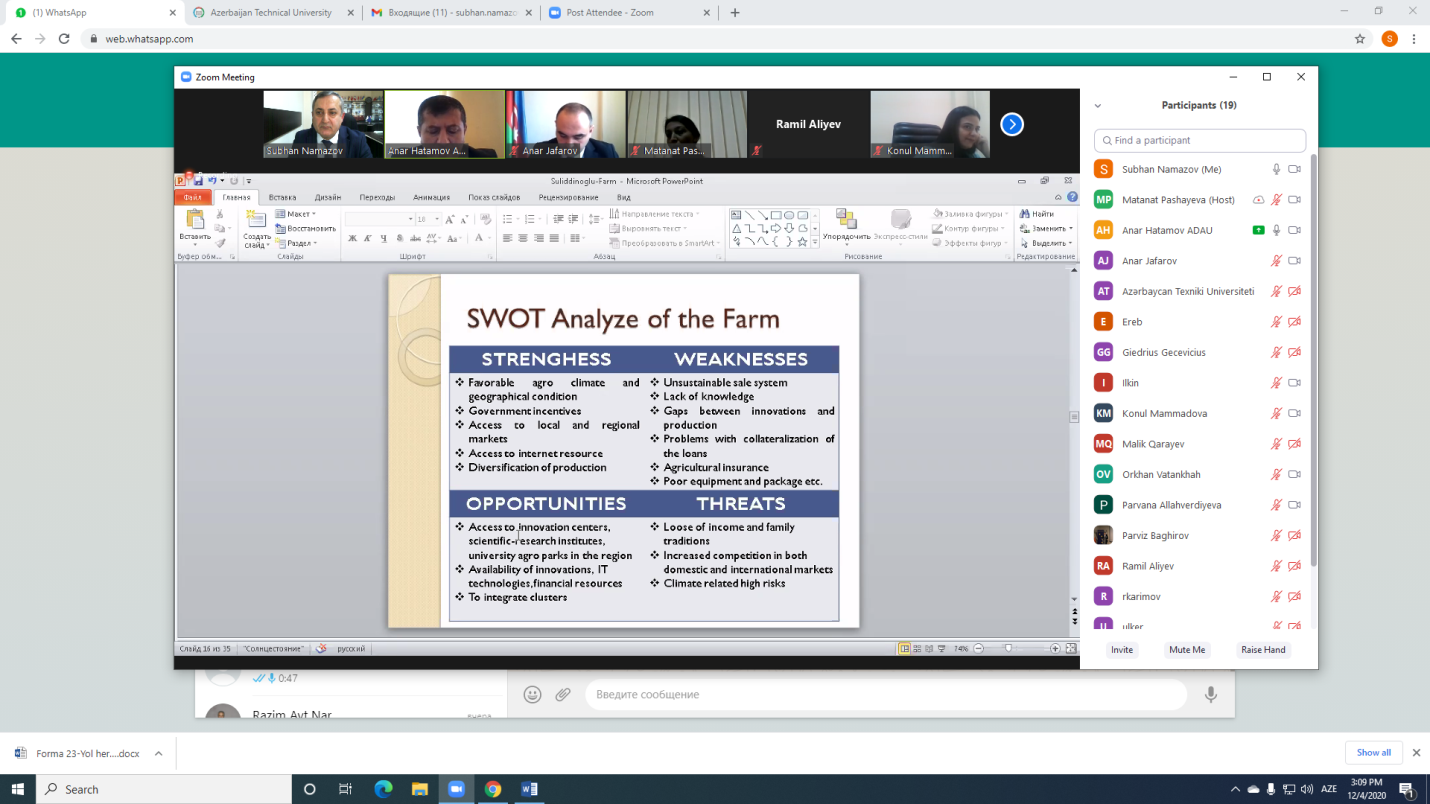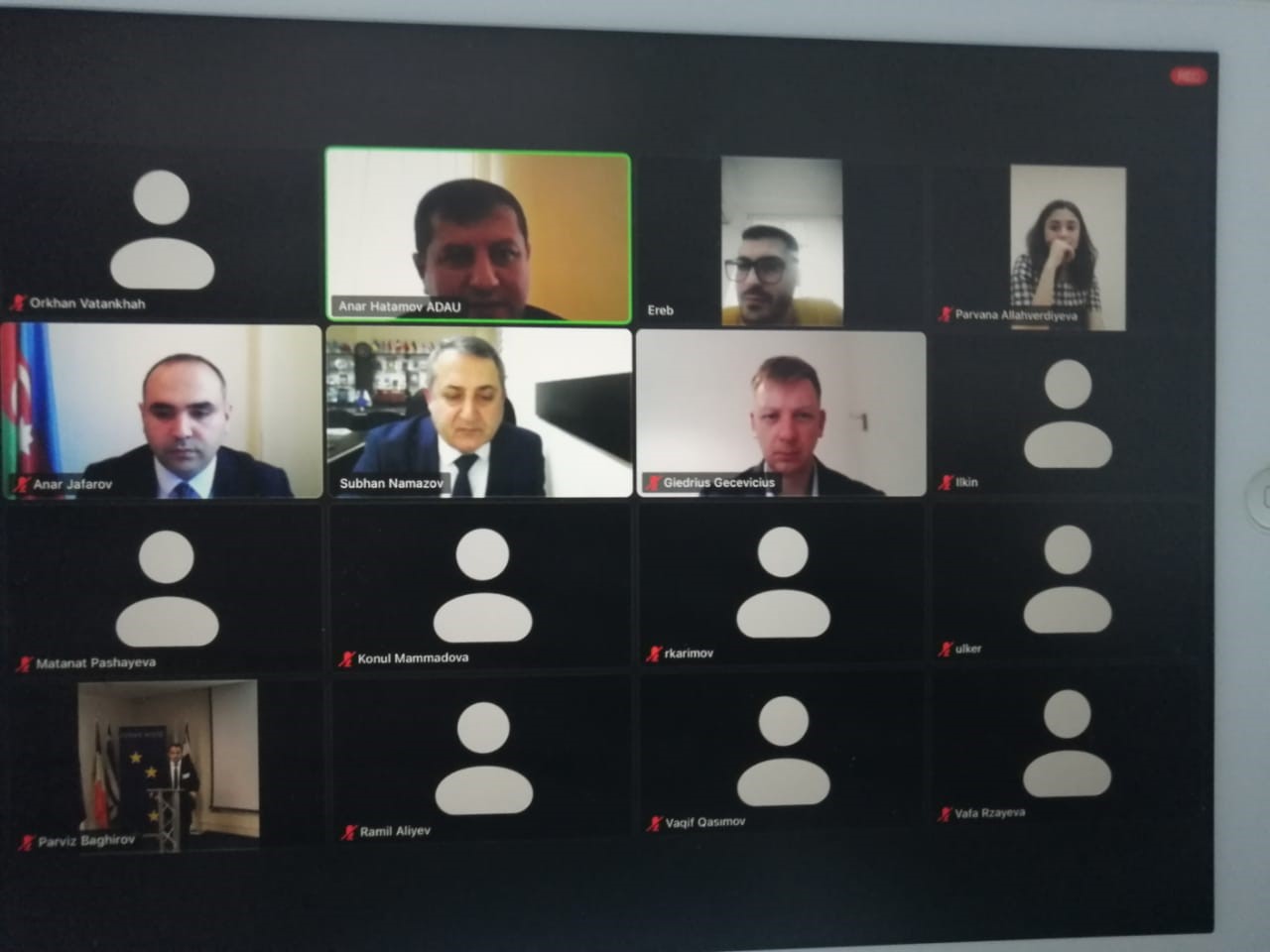 Giedrius Geceviciu, representative of Kaunas University of Applied Sciences presented Lithuaniancluster experience in food and agro sector. He provided general definition of clusters and mostly applicable areas of their operation, benefits of clustering, statistics and main directions of present clusters acting in Lithuania. He also gave brief overview of 4 clusters operating in food and agro sector and provided brief information about their organizational structure, members, finance, coverage incumbents in the supply chain and SWOT analysis of Lithuanian experience in food and agro sector.
Then the meeting was wrapped up with Q&A sessions where the representative of Agrarian Research Center, Ramil Abiyev mentioned about the challenges lived with accessing to the necessary data and would have been thankful if any kind of collaboration was established within the project.